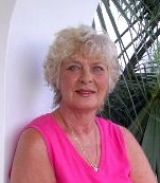 What motivated you to become an indie author?
I'm a child of the sixties. I like doing things my way.
Do you remember the first story you ever wrote?
The first story I ever wrote was my novel, Desert Heat. Prior to this, I had never really thought about writing a book. I just loved to read. In 1997, I was living in Japan and had a very difficult time finding books to read that were written in English. This was before the e-book revolution. In desperation, I began writing just so I would have something to read. I discovered that I liked writing almost as well as I liked reading.
What is your writing process?
Am I supposed to have a writing process? :) In any case, I don't. I write as the mood strikes me.
Describe your desk
What desk? I got rid of my desk. I have a very comfortable recliner and my laptop. Works for me. :)